Meet Your Oral Surgeon and Dentist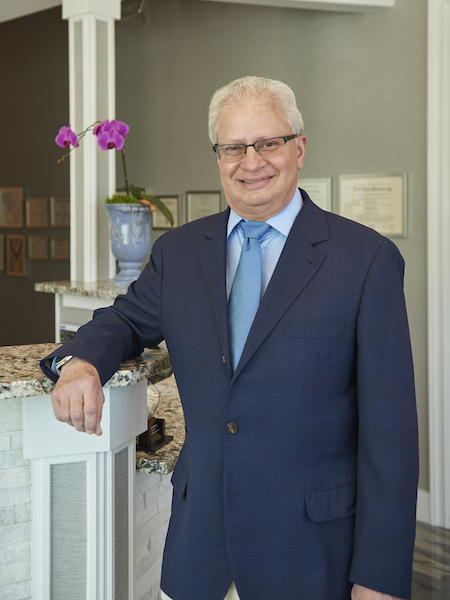 Frank R. Leone, DDS, FAAID, DABOI
DDS – doctor of dental surgery-New York University
Fellow – American Academy of Implant Dentistry (AAID)
Diplomate – American Board of Oral Implantology (DABOI)
New York State – certified IV conscious sedation
Over 33 years of experience


Dr. Frank Leone has been serving the Westchester and Fairfield County for over 32 years.  He achieved Diplomate status (of the American Board of Oral Implantology) and Fellow status (of the American Academy of Implant Dentistry) – two of the highest standards one can achieve in his field of oral implantology, bone grafting, and prosthetics; he is committed to developing techniques and innovations in these fields today.
Dr. Frank Leone has extensive postgraduate training in endodontics, implantology and intravenous sedation at New York University, the Medical College of Georgia and Montefiore Hospital.  Passionate about teaching others and disseminating his knowledge of bone grafting, implantology and innovative techniques that he has help pioneer- he has consulted on the design of implant courses globally and has practitioners who are passionate about implantology shadow certain advanced cases.  He has held teaching positions at NYU and has held various lectures and continuing education implant product courses for select implant companies.
As a compassionate practitioner, he takes the time to answer questions and concerns and all available treatment modalities.  Dr. Frank Leone believes in a level of patient care modern medicine lacks.  He believes in always being available to his patients especially after surgical treatment.  Patients can always reach him, day or night related to their dental concerns.  Our system of email, text messaging, after hours answer service will insure you can always talk directly to the doctor.  
Dr. Frank Leone believes in minimally invasive treatment modalities, that is why we have invested in ultra modern, state-of-the-art technology and only carry the top of the line, brand name products.  No expense is spared on our end in giving the patient absolute best care.  If a treatment is necessary will make it a point to make sure it is completed only utilizing the best products, done in the minimal invasive manner (utilizing the newest techniques) and in many cases, Dr. Frank utilizes advanced healing products.  
Look at our technology section to get an idea of the advanced products we utilize pair with our techniques.
Dr. Frank Leone is a dentist in Armonk, NY and Westchester Community, with over 30 years of experience.  He is a Fellow of the American Academy of Implant Dentistry (AAID) and a Diplomate of the American Board of Oral Implantology (DABOI).
---
What is a Diplomate of the American Board of Implantology?
The ABOI/ID Diplomate designation symbolizes the highest level of competence in implant dentistry. Certification by the ABOI/ID attests to the fact that a dentist has "demonstrated knowledge, ability, and proficiency in implant dentistry through a rigorous examination process." Worldwide, there are only 426 Diplomates.
---
What does it mean to attest to the Fellow Credential?
The Dentist is fully knowledgeable of both surgical & restorative phases of implant dentistry. The Dentist must meet exemplary educational, experiential, professional and leadership requirements and pass arduous written/oral/case examinations.